Weekly Announcements
First Christian Church (Disciples of Christ)
111 North Fifth Street
Murray, Kentucky 42071
(270) 753-3824
fccmurray@gmail.com
For the week of
Tuesday, January 19, 2021 through
Monday, January 25, 2021

Tip: Meet urgent needs of people impacted by natural disasters and the pandemic.
"When you pass through the waters, I will be with you; and through the rivers, they shall not overwhelm you; when you walk through fire you shall not be burned; and the flame shall not consume you."  ~ Isaiah 43:2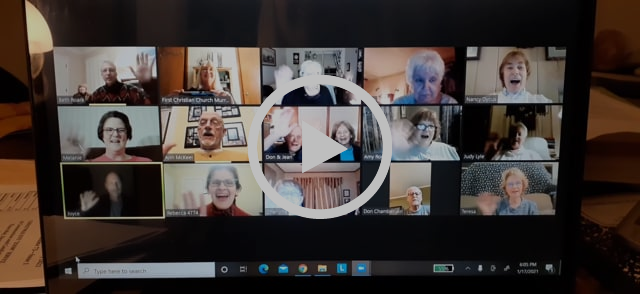 The Church Board met on Sunday, January 17, 2021.
The church office will be closed on Wednesday, January 20, 2021.
Message from Youth Director Elena Roberts: "We really need people to drop food donations (at the church Fellowship Hall) for our third Sunday of each month, or they can drop it at my house. We also make our blessing box part of the delivery route. Thank you."
 
It's impossible to explain just how much I'm going to miss getting to work with Glori Cope. 
 
What a terrific colleague in ministry she is—as I'm certain she was to six other Christian Church (Disciples of Christ) In Kentucky West Area ministers over the last 29 years. For starters, Glori has shouldered so much ongoing responsibility as West Area office administrator and, since 2016, as Camp Kum-Ba-Ya program manager. For another, it's hard to imagine how so many events and advances over the years—the 60 Years of Camping celebration at KBY in 2016, West Area Workshops in early 2020, her adaptation of West Area ministry for the digital age with launch of websites, e-newsletter and social-media presence, and on and on—would've taken place without her hard work. And then there's the indispensable institutional memory that Glori uniquely holds and generously shares.
 
But with the approach of Monday—Glori's last day on the job—it is not so much the departure of the outstanding colleague that I'm mourning, it's the moment-to-moment fun and security of getting to work alongside such a supporting and warm friend. I am truly excited for Glori and James, who on Jan. 25 is stepping down as KBY's interim caretaker, and I can't wait to see what God unfolds for them next. I'm also selfishly sad. 
 
I know we will all miss Glori and James in our own ways, and I know many of us will want to personally offer congratulations and thanks. Here are two great opportunities to do so:
 
You can drop a line to the Copes at Christian Church (Disciples of Christ) In Kentucky West Area, P.O. Box 1332, Madisonville, KY 42431. 
You can contribute to a secret love offering by mailing a gift before Feb. 16 to Christian Church (Disciples of Christ) In Kentucky, P.O. Box 910503, Lexington, KY 40591.
 
Please try not to spill the beans to Glori and James about the love offering! I hope I've successfully removed them from distribution of this email; you are going to see a lot of this letter (but without note of the love offering) in the upcoming West Area Coordinator, which the Copes will receive. Thanks for helping me try to keep the secret!
 
As always, it is a joy to be in ministry with you and to get to witness all that God is doing among us.

Peace to you all, 

Rev. Rachel Nance Woehler
West Area Regional Minister
NOTE: Since we are presently in a red zone, there will not be any gatherings in our church buildings at present. 
Wednesday, January 20, 6 PM ~ Wednesday Night 'Virtual' Live group will meet on Zoom for a time of fellowship and reflection on scripture and poetry. Everyone is encouraged to attend. Please email fccmurray@gmail.com for a link to the Zoom gathering.



ACTIVITIES FOR SUNDAY, JANUARY 24, 2021 
 
A copy of our at-home worship service is included as a link on our church website at www.fccmurray.com. A copy of Pastor Ruth's sermon will be emailed out as a PDF file and also will be posted on our website. Her message can be listened to on Facebook Live (technology and internet service permitting). You may access this by going to the Facebook icon on our church's website or through your own Facebook page. 

9:45 AM ~ Zoom Coffee Gathering for a time of fellowship.  
10 AM ~ 'SIMPLICITY SUNDAY' WORSHIP CELEBRATION VIA ZOOM. We will share in a time of fellowship, music, prayer, and communion together. We look forward to having Celeste McAllister share something about her faith journey during our service.  We encourage you to have a candle ready to light during our opening when Mark Dycus leads us in "Holy Ground" and something symbolizing the bread and cup that you can use when we take communion together.  
Please email fccmurray@gmail.com for a link to the Zoom gathering.
                                                    _______________________
 
COMMUNION: If you are using your at-home worship kits, we encourage you to take communion at 10 AM, as you join with others at this time to share in the bread and cup. This Sunday we will be offering communion during our Zoom gathering at 10 AM. Pastor Ruth will also be presiding at the communion table on Facebook Live. 
 
OFFERING: You may mail your check to the church at First Christian Church, 111 North Fifth Street, Murray, KY 42071 or drop it off in the secure mail slot in the door beside the one leading into the fellowship hall. You may also give online through our Givelify app (see information further down).
 
CHILDREN'S ZOOM FELLOWSHIP GATHERING at 4 PM ~ the Zoom link will be emailed out later in the week.
Thank you to everyone who has sent in their tithes and offerings to the church! We encourage you to continue to be faithful in the giving of your tithes and offerings by mailing them to the church at: First Christian Church, 111 North Fifth St., Murray, KY 42071 or giving online through Givelify!

If you rather bring your offerings to the church, there is now a mail slot, located in the door to the fellowship hall kitchen. 
Missing worship service? No problem. Make your tithes and offerings with Givelify from wherever you are, using your computer or your Smart phone app.

To make a computer donation, go to https://www.givelify.com/givers to start giving. To make a mobile donation, we recommend you download the Givelify app for Android or iPhone.
It's free to download and use. It's totally safe and secure, and for tax time you have one-tap access to your complete donation records.