Weekly Announcements
First Christian Church
(Disciples of Christ)
111 North Fifth Street
Murray, Kentucky 42071
(270) 753-3824
fccmurray@gmail.com
For the week of
Tuesday, July 7, 2020 through Monday, July 13, 2020

Tip: Model the kindness yo want to see in the world.
"But the fruit of the Spirit is love, joy, peace, patience, kindness, goodness, faithfulness, gentleness, and self-control. ..."
Galatians 5:22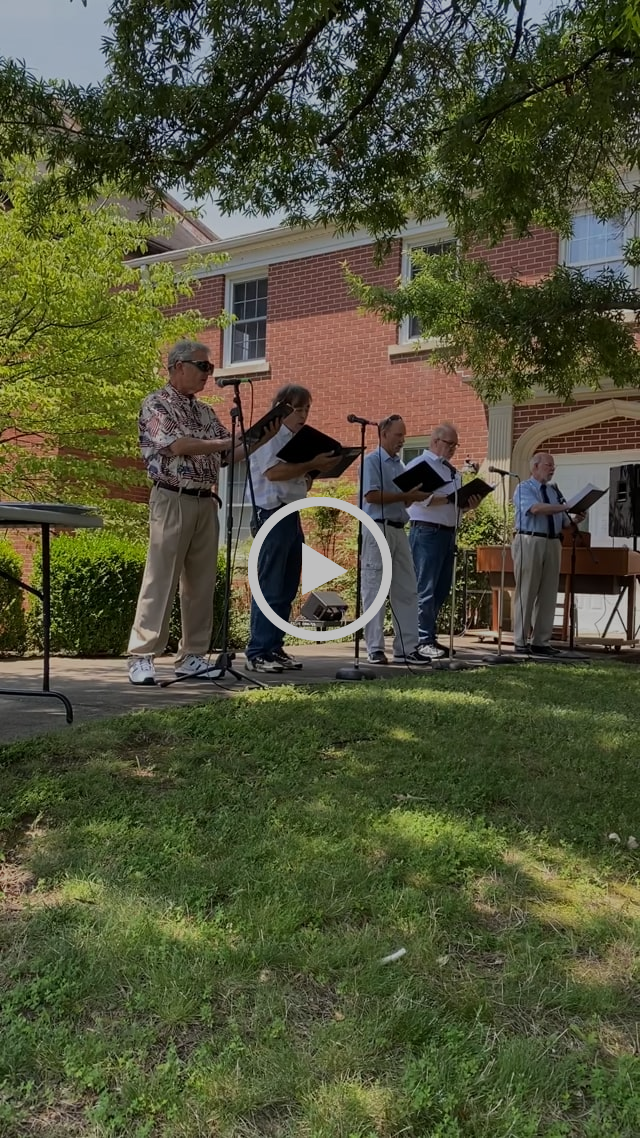 The Men's Group sang on the front lawn of the church last Sunday, July 5, 2020. Video thanks to Rebecca Landolt. 
NOTE FROM PASTOR RUTH:
 
Dear Church Family and Friends,
 
I hope you all had a good Independence Day weekend!  For those of you who did not read the email that was sent out on Friday along with worship materials and my message, I want to let you know that last week I was diagnosed with shingles. To repeat from my previous email:  About two weeks ago, I started having severe pain that seemed to radiate from the front to the back of my left hip. It was serious enough that I tried to get in to see a chiropractor (the earliest I could get in was July 22) and even considered going to see an orthopedic doctor (thinking I might even need a hip replacement).  I carried on by taking as much Advil as I safely could, realizing that the pain had a strange numb, tingling sensation.  This actually was my first experience with nerve pain. Some days later a strange rash broke out that actually followed the line of my hip pain.  I was able to get in to see my wonderful health care provider, Karen Bailey, last Tuesday afternoon who immediately diagnosed it as shingles.  Her orders were to take prednisone (since getting the pain under control is the most important aspect of it so that it does not become chronic), an anti-viral, and to REST!   So I will be continuing to follow her orders and rest as much as possible within the constraints of my driven personality.
 
Until at least Tuesday, July 21, I will be doing some church work from home (overseeing Wednesday Zoom gathering, Tuesday email, Saturday email, Church Life) but stepping away from some other activities.  I am grateful that my husband Rev. Russ Ragovin has agreed to preach both July 12 and July 19.  He loves preaching so it is a win-win.  He does not produce manuscripts but an email of his sermon outline will be emailed out (you can read the scripture and follow his outline) and it will be videoed so those of you who would like will be able to see it on Facebook Live.  I will be checking in with Debbie but to truly be able to fully heal (pain and rash are still present, although slowly getting somewhat better) I will need to take a step back.  So if I do not answer your emails, texts, or messages, please do understand why.  I ask for your understanding and appreciate your prayers for a very speedy recovery. There have been very few times in my life when I have been off for personal medical reasons for more than a day or two, so this is something that is new for all of us.  I hope to see some of you on Zoom tomorrow (Wednesday) evening and look out to a time of fellowship with you and reflecting on this week's lectionary Psalm (119:105-112) and a poem!
 
Additionally, I ask that you keep our other staff members in your prayers. Nancy Dycus had emergency surgery on Saturday morning and needs your prayers.  Mark Dycus has stenosis and some compressed discs in his neck that he is seeking medical attention for.  Donnie Hendrix' arm is still healing in the aftermath of a recent fall at the church. Our Director of Communication's sugar levels are higher than they should be.  Thankfully, our custodian Aimee Bailey is holding her own!  Fortunately, we all serve the BEST CONGREGATION in the world so I know that you understand, care, and are holding us all in God's light and love just as we are you as well!
 
In Christian Love and Service,
 
Pastor Ruth
 
Sharon Lueck is looking for a woman's bicycle for a family member to use to get to work.  If you know of one no one is using, let Ruth Daughaday know at 270-227-1348.  A bicycle basket would also be helpful.
VIRTUAL VBS: July 6-10
 
Our children have been invited to enroll in the virtual VBS from July 6-10 by the First United Methodist Church.Susan Drake, with whom we were working to co-host a VBS this summer, has continued working to help with this online opportunity. Please see the following note from Susan Drake about this:
 
 "VBS will be an at-home online event this summer. We are working with First United Methodist of Murray, as we have for the past several years. This year just looks a little different! I'm co-teaching Imagination Station and helping with decorations and supplies. Please register your children in advance so that we can make sure we have their goody bags ready for you to pick up. VBS will take place July 6-10!
https://vbspro.events/p/events/murrayfirst 
Also, check out the Facebook video!
https://www.facebook.com/111852163779386/posts/149530146678254/ 
 
Thanks and blessings! 
Susan Drake"
 
Tonight, Tuesday, July 7, 7 PM ~ Church Buildings Re-opening Committee will meet (socially distanced) in the fellowship hall.
 
Wednesday, July 8, 6-7:30 PM ~ Wednesday Night 'Virtual' Live Zoom meeting for a time of fellowship and to reflect prayerfully upon our lectionary psalm and another piece of writing.  The log in information is below and also will be emailed out separately, along with the writings we will be looking at.
 
First Christian Church Murray is inviting you to a scheduled Zoom meeting.
 
Topic: First Christian Church Murray's Wed Night 'Virtual' Live Zoom Meeting
Time: July 8, 2020 06:00 PM Central Time (US and Canada)
 
Join Zoom Meeting
https://us02web.zoom.us/j/84172065341?pwd=L0FnSWhWd1JBWjBsWjlxN0dub2JZZz09
 
Meeting ID: 841 7206 5341
Password: 009702
One tap mobile
+13126266799,,84172065341#,,,,0#,,009702# US (Chicago)
+16465588656,,84172065341#,,,,0#,,009702# US (New York)
 
Dial by your location
        +1 312 626 6799 US (Chicago)
        +1 646 558 8656 US (New York)
        +1 301 715 8592 US (Germantown)
        +1 346 248 7799 US (Houston)
        +1 669 900 9128 US (San Jose)
        +1 253 215 8782 US (Tacoma)
Meeting ID: 841 7206 5341
Password: 009702
Find your local number: https://us02web.zoom.us/u/kXCBo6c1C
_______________________
SUNDAY ACTIVITIES
A copy of our at-home worship service will be included as a link on our church website at www.fccmurray.com.  Russ' sermon handout will be included as a PDF file that will be emailed out on Saturday, which also will be attached to our church's website at www.fccmurray.com.  His message can also be listened to on Facebook Live (technology and internet service permitting). You may access this by going to the Facebook icon on our church's website or through your own Facebook page.
 
COMMUNION: If you are using your at-home worship kits, we encourage you to take communion at 11 AM, as you join with others at this time to share in the bread and cup.  This Sunday we also will be offering communion on the church's front lawn at noon (weather permitting).
 
 
ORGAN CONCERT, SPECIAL MUSIC, COMMUNION, AND PRAYER at 12 NOON: Park near the church or sit on one of the chairs (placed at least six feet apart from one another) that have been put outside the sanctuary and listen through the open doors of the church.  Chairs will also be put out on the front lawn of the church (along with a table with bottles of cold water) to get people in the shade.  Our hopes are to listen to Donnie's organ concert outside the sanctuary doors and then move over to the church lawn to enjoy Mark and team's special music, communion, and a time of prayer.
 
 
Please post photos of yourself and your family at worship or email them to the church at fccmurray@gmail.com! It helps us all to feel connected.
 
CHILDREN'S ZOOM FELLOWSHIP GATHERING at 4 PM ~ The log in information will be sent out later this week.  If you know children who might like to attend, please let Pastor Ruth know by emailing her at ruthragovin@gmail.com
Thank you to everyone who has sent in their tithes and offerings to the church! We encourage you to continue to be faithful in the giving of your tithes and offerings by mailing them to the church at: First Christian Church, 111 North Fifth St., Murray, KY 42071 or giving online through Givelify!

If you rather bring your offerings to the church, there is now a mail slot, located in the door to the fellowship hall kitchen. 
Missing worship service? No problem. Make your tithes and offerings with Givelify from wherever you are, using your computer or your Smart phone app.

To make a computer donation, go to https://www.givelify.com/givers to start giving. To make a mobile donation, we recommend you download the Givelify app for Android or iPhone.
It's free to download and use. It's totally safe and secure, and for tax time you have one-tap access to your complete donation records.